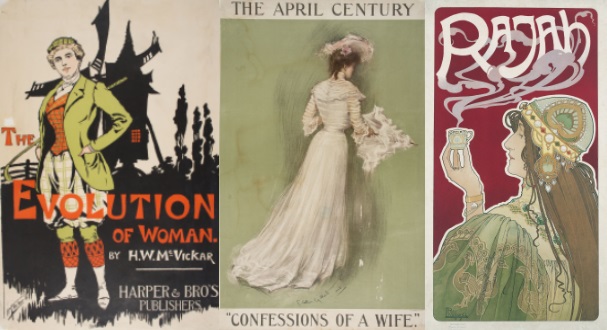 Being an intern usually means having lots of routine tasks and minimum responsibility. Being an intern at the Museu Nacional means being part of the team. During the six months I spent at the museum, I was granted with an opportunity to be a part of several projects as well as to bring my own ideas into life. I want to talk a bit about a completely unplanned piece of work, which ended up as a virtual tour.
The most interesting things come out of the blue. That is how the The Evolution of Woman virtual itinerary was actually created. While preparing the promotional campaign for the Xavier Gosé exhibition opening I was researching the materials about the artist's main inspirations for work: the lifestyle of the beginning of the 20th century, the fashion of the Belle Epoque period and the image of women of Modernity.
I got so engaged with the topic that I didn't even notice how far I had stepped aside from the main issue. We could not fit those materials into the programme dedicated to Gosé. However, there was enough information to set up a virtual tour that would have its perfect place and time. As long as most of the artworks involved were part of the museum online collection, we decided that it would be a good complement to the Museu Nacional's digital space. Moreover, the materials about the changes in fashion and development of women's costume turned out to be so closely connected with the general changes in society, including women's liberation, emancipation and the beginning the feminist movement, that, obviously, we saved a special date for it: March 8, the International Women's Day.
This day is not just a general celebration of respect and appreciation towards women, but also a celebration of women's economic, political, and social achievements. I tried to present such a 'girly' topic as fashion through the prism of social development forced by women and for the sake of women.
The virtual tour is concentrated around the notion of the New Woman, who is independent, strong and has an integral feminist ideal that paved the path for the majority of modern women to stand for gender parity and equality and the fight for their rights. With this project, I pursued an aim to show that if we want something to be changed we have to force it on our own. I guess this idea comes out pretty clear from the itinerary's epigraph: 'They always say time changes things, but you actually have to change them yourself' (Andy Warhol).
Related links
Women Artists of Museu Nacional
Valeria Nepeina, Intern from the Master's Degree on Arts and Cultural Management UIC (International University of Catalonia)