Ricard Bru i Turull
It must have been back in 2010 when I met Joan Gardy Artigas, son of Josep Llorens Artigas, at the Mas El Racó in Gallifa. I remember that on that first visit to his house I told him that I had just worked on an exhibition at the Museu Picasso in Barcelona where the hitherto unknown and unpublished collection of Japanese erotic prints owned by Picasso had been presented. His response, discreet and not at all ostentatious, was fulminating to me: they were not unknown, since he remembered them perfectly; Picasso had shown them to him on a visit to La Californie with Joan Miró. Furthermore, five years later, it was in fact Joan Gardy Artigas himself who made Miró and Llorens Artigas cross the city of Tokyo in three black limousines to secretly visit Kiyoshi Shibui's Japanese erotic art collection, the most important in Japan.
Seen in this way, it should come as no surprise the disturbing naturalness with which he could explain how Dalí reacted to the fact that, with the insolence of the 22-year-old, he cut the polished moustache he boasted at the opening of an exhibition of Tàpies, at the Martha Jackson Gallery in New York. In doing so, he explained the reason: "This was necessary, if I had not done it, someone else would have done it." Despite being mutilated by a whirlwind, Dalí reacted quickly with a sentence of his own: "Look at my cosmic antennae, now I have a long one and a short one, like my testicles." In other words, my first impact was to discover an amazing artist, able to speak naturally and with his own voice about his relationship, friendship or collaborations with creators such as Miró, Giacometti, Braque, Chagall, Picasso or Hamada.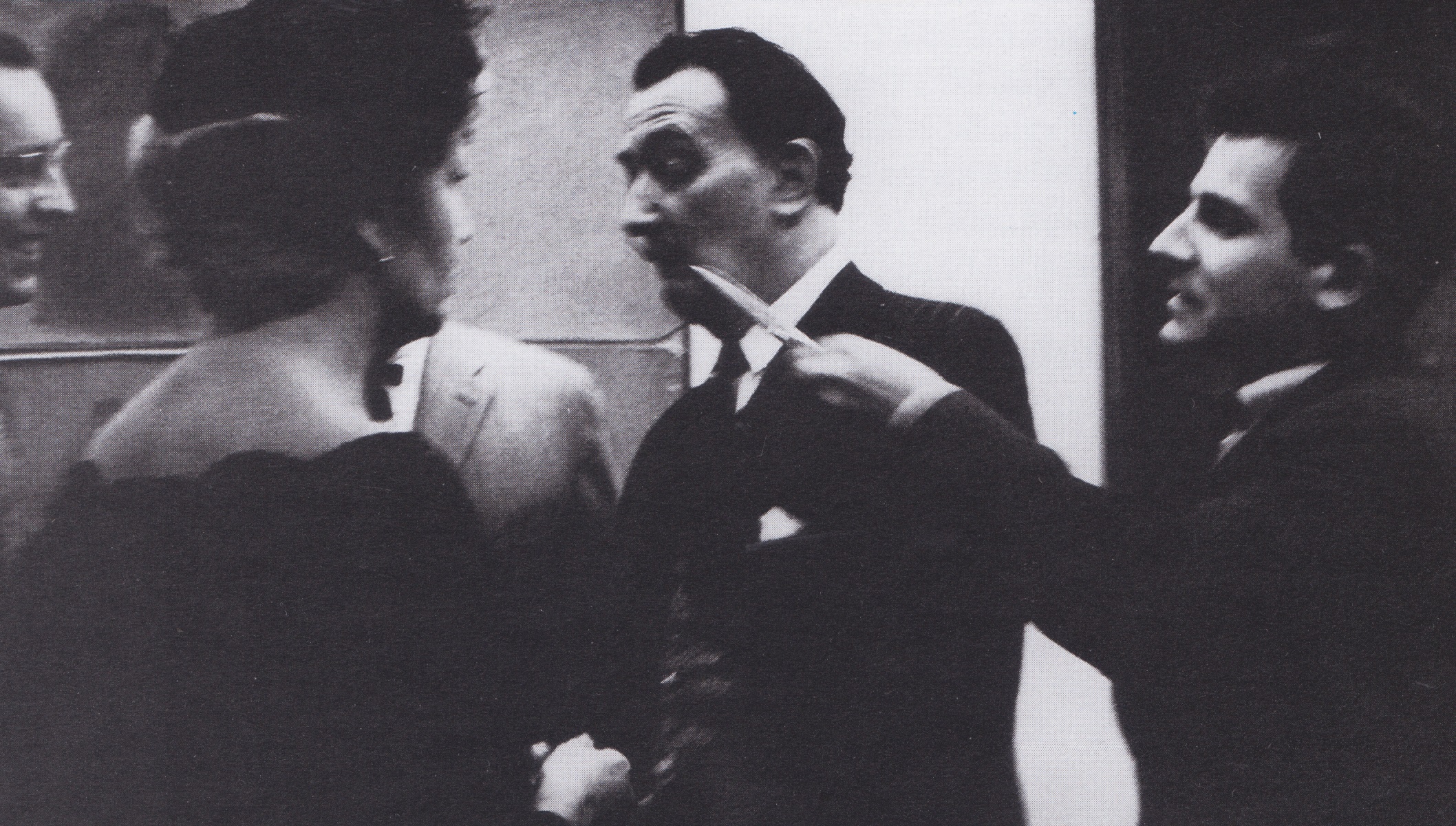 Joan Gardy Artigas cutting the moustache of Salvador Dalí. New York, 1961. ©Fundació J. Llorens Artigas.
Joan Gardy Artigas, however, is neither a socialite nor someone who lives from the past. He is a free and passionate creator, a man with a healthy humour and an indefatigable but silent artist, who keeps quiet about everything he tells others. Of course, you could join his hours of after dinner discussions to listen to the thousand and one experiences of a long and full life, but, on the other hand, seldom, very rarely, do you hear him talk about himself, his works or his path as an artist. Everything about him, Joanet, is discretion and kindness, that of a man for whom the essential values are honesty and truth. However, in spite of his humility, his long career has allowed him to chart his own path, suggestive as well as vigorous and forceful, full of character and widely recognised abroad.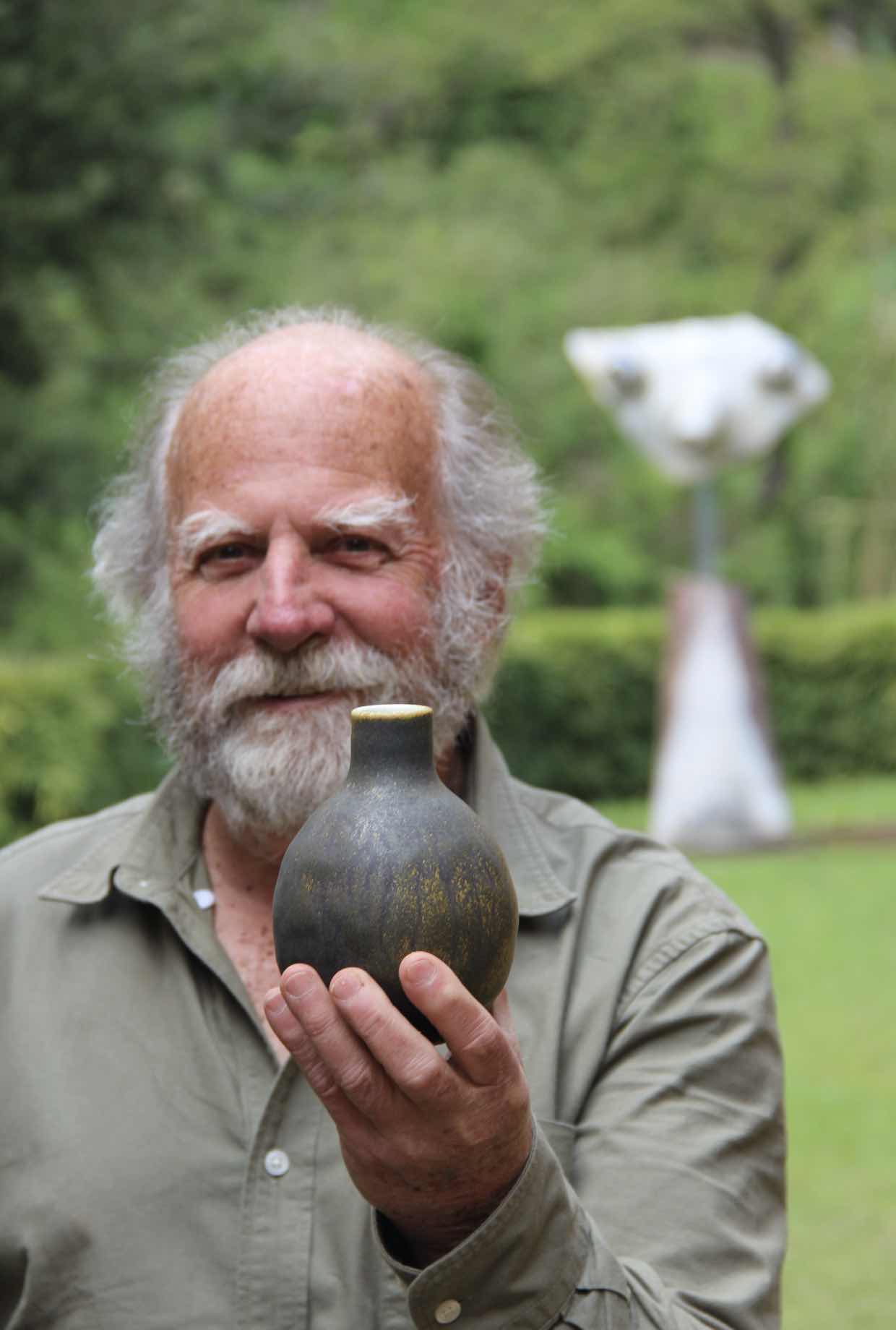 Joan Gardy Artigas, at the age of 80, showing one of hir first ceramics. ©Ricard Bru.
Joan Gardy Artigas occupies a discreet but fundamental place in the exhibition dedicated to Hamada Shōji and Josep Llorens Artigas. It is also very clear in the catalogue. We must not lose sight of the fact that the friendship between Llorens Artigas and Hamada was able to bear fruit, in part, thanks to the formative stay of Gardy Artigas in Japan in 1962 funded by the Juan March Foundation. Moreover, during that stay, he married Mako Ishikawa and at the wedding Hamada acted as best man with the presence of his parents, Josep Llorens Artigas and Violette Gardy, who took the opportunity to visit the country, and especially Hamada's workshop in Mashiko. In addition, Gardy Artigas' stay in Mashiko allowed him to study the noborigama kiln that Hamada had in his workshop with the intention of building a similar one in Gallifa.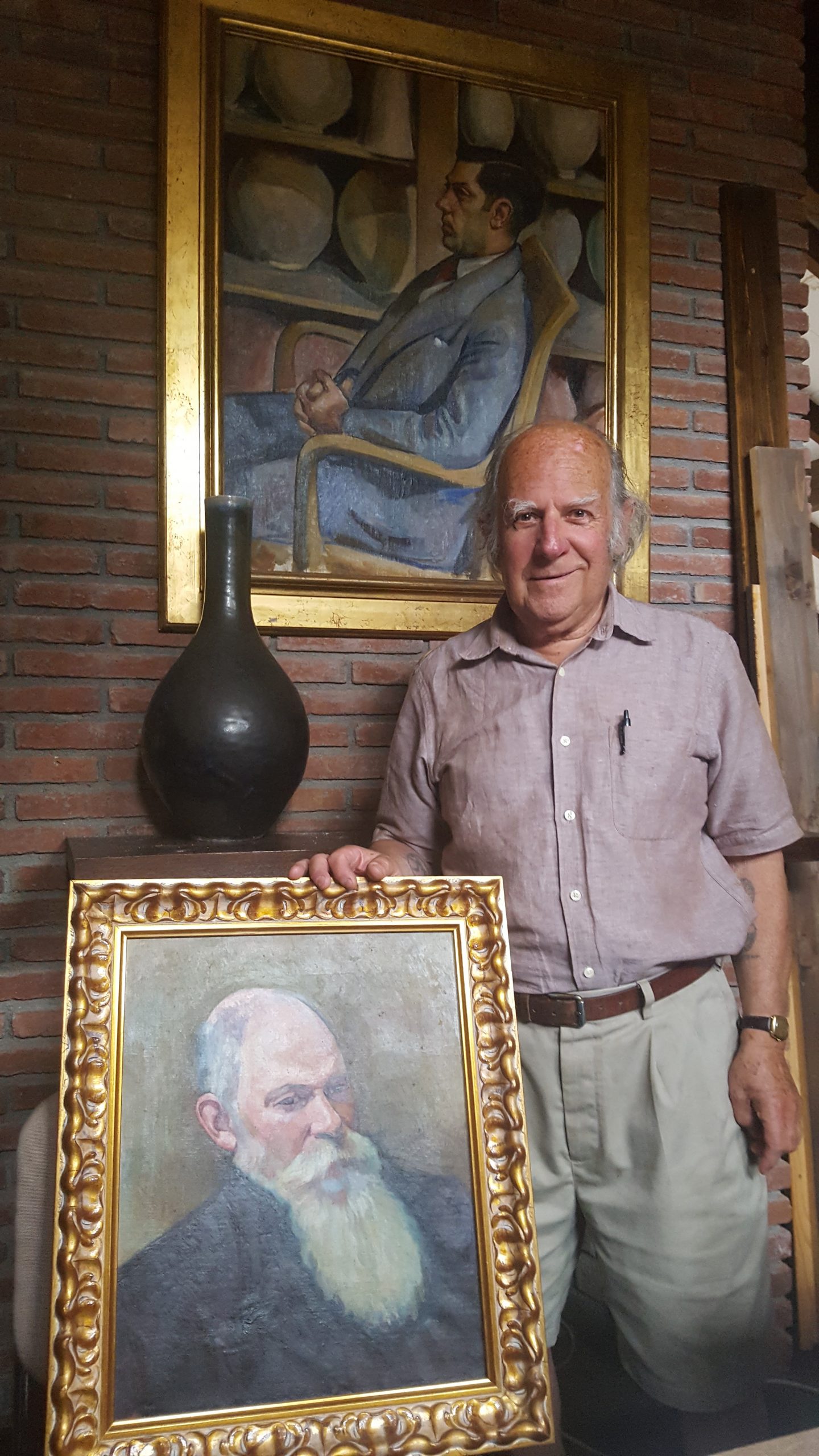 Joan Gardy Artigas, accompanied by a vase of Josep Llorens Artigas, and portraits of his father and grandfather painted by Francesc Domingo. Gallifa, 2014. ©Ricard Bru.
Father and son wanted a direct fired, high-capacity kiln with an oriental tradition, both to be able to meet the demand for large-format pieces made in collaboration with Miró, and also so that Gardy Artigas could freely create his ceramic sculptures, impossible to fit in the small kilns in which, until then, his father had baked his vases and stoneware bowls. A decade after the first meeting between Hamada and Artigas at Dartington Hall in 1952, from 1962 onwards the friendship between the two families was consolidated with recurring encounters in the following years.
In this context, the exhibition organised by the Museu Nacional d'Art de Catalunya includes several vases made in Paris by Joan Gardy Artigas between 1959 and 1960, while also referring to the construction of the Mashiko kiln of Gallifa, just at the time that began to define the interests of the young artist by changing his original name, Joan Llorens Gardy, to that of Joan Gardy Artigas. You can also see in the exhibition a wide selection of small vases that he modelled in early 1963, returning from Japan, so that they could be decorated with his father's enamels and Miró's shapes, although Gardy Artigas himself was also involved in the decoration some of them. However, this was only the beginning of a solo career that the exhibition does not present and that was fully and successfully developed from 1963 onwards.
Joan Gardy Artigas. Epoxy sculptures, 1965 / Two monumental epoxy sculptures, currently missing, in Joan Gardy Artigas workshop at Vitry-sur-Seine, 1976. ©Fundació J. Llorens Artigas.
Joan Gardy Artigas first made his solo debut at the Sala Gaspar in 1963. From then on, he began working as a sculptor and exploring various techniques, initially modelling both clay and epoxy resin so as, shortly after, to experiment with all sorts of shapes and materials. Thus, he embarked on a new path to create his own world of feminine forms, to which were added the organic lines, fish, animals and monsters that have built a well-defined personal aesthetic. The torso and epoxy bodies of the nineteen sixties, bronze fists and organic shapes from the 1970s, refractory pottery reliefs and plates, ceramic murals from Atlanta, Cairo, Chicago and Granollers, or the monumental sculptures of Vitry-sur-Seine, Lac Vert de Chamonix, the Montblanc tunnel, the AP-7 motorway or Barcelona's Diagonal are just the spearhead of many aspects of Gardy Artigas' work.
Joan Gardy Artigas, La bague au doigt, 1973. Bronze, 34 x 52 x 30 cm / Joan Gardy Artigas, La Porte Bleue, 1973. Bronze and cement, 8 x 1,60 x 1,50. Chamonix, França.
People like the American architect Bruce Graham, for whom Gardy Artigas created ceramic mosaics, murals and even stained glass, or Joan Miró, with whom he collaborated for three decades, they appreciated and admired the artist's talent and freedom, and that is why they wanted to collaborate, as Braque did or, more recently, other artists such as Frederic Amat or Xavier Vilató. Because from modesty and silence, Gardy Artigas has done much more than turning, glazing, modelling and designing. What few expect from an artist, who is often presented simply as a collaborating ceramist of Joan Miró, is to discover the intensity of his ceramic and sculptural work, and the overflowing creativity also expressed with the pencil and the brush, in work on canvas and on paper. Relevant contributions remain, such as his artist books, series of drawings and paintings such as the Apocalypse (1976) and Bullfighting (1988), or the series Portraits (1986), where painting and sculpture merge in a dialogue, full of humour and wit. Despite his silence, the hundreds of drawings, acrylics and many lithographs that, accompanying the ceramic and sculptural work, have emerged from the workshop, are an unequivocal testament to the versatility of Gardy Artigas in expressing himself , some of which were exhibited in 1996 at the Centre Cultural Tecla Sala in L'Hospitalet and many others presented in individual exhibitions in cities such as Atlanta, Barcelona, ​​Dallas, Girona, Grenoble, Los Angeles, Madrid, New York, Osaka, Paris or Tokyo.
Joan Gardy Artigas, , Untitled, 1967. Lithography, 61,5 x 77 cm. ©Fundació J. Llorens Artigas / Joan Gardy Artigas, Lithography for the poster of the Ibero-Club exhibition in Bonn, 1969, 42×61.
Still today, Gallifa's workshops are always full of recent work, half-defined or pieces nearly completed, as well as drawings, notes and ideas that push him to continue creating. In this sense, although it is clear that the exhibition presented by the Museu Nacional d'Art de Catalunya has been designed to become a tribute to the career of his father, Josep Llorens Artigas, and one of his references, Hamada Shōji , we did not want to miss the opportunity to talk about the present and the talent of a great artist, Joan Gardy Artigas, who became an essential link in the relationship between Hamada and Artigas, and who still unites the past and the present from a unique and privileged look.
One of the workshops of Joan Gardy Artigas in the Mas El Racó. Gallifa, 2017. ©Ricard Bru.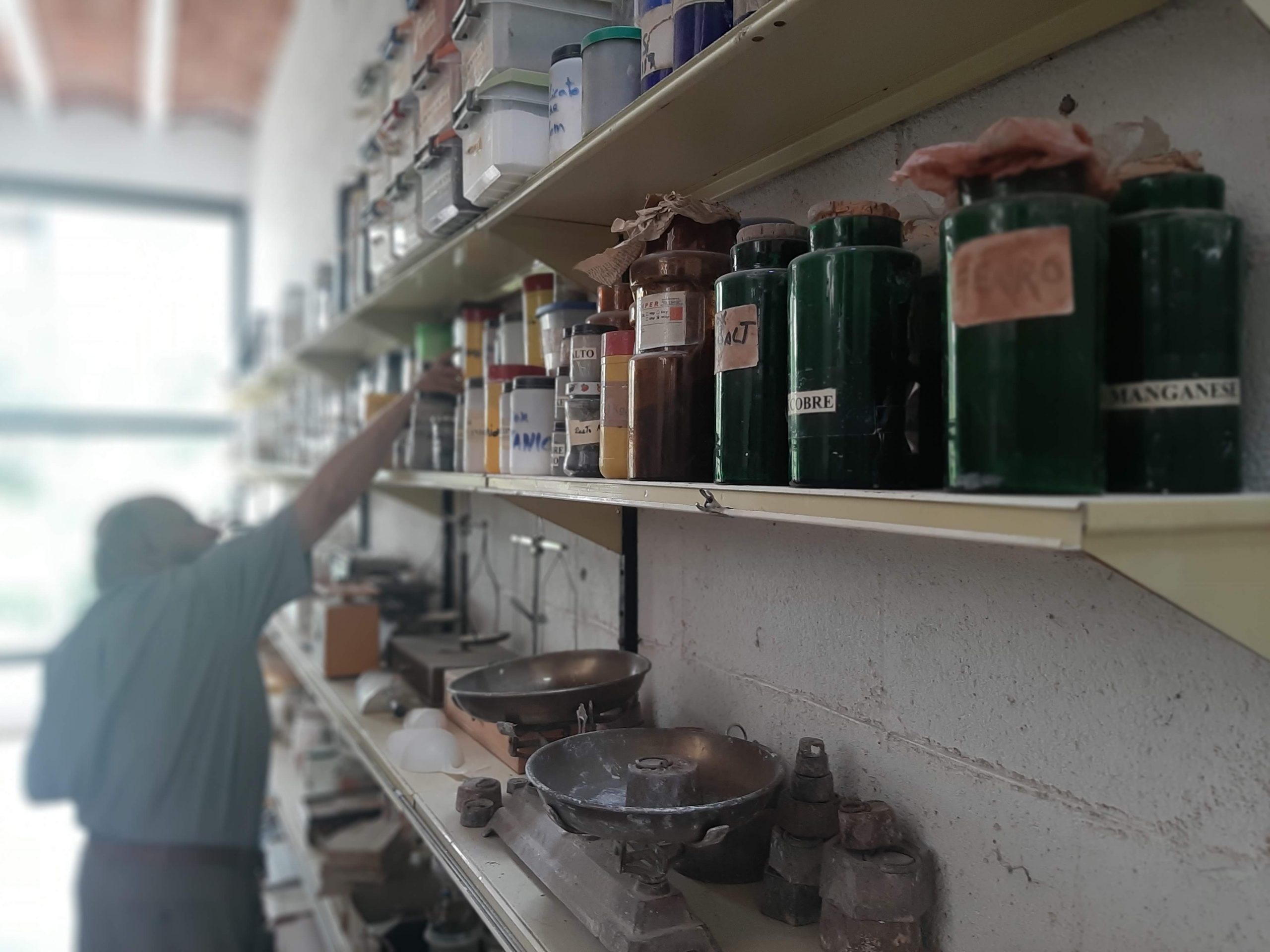 Joan Gardy Artigas working in the workshops of the Fundació J. Llorens Artigas. Gallifa, 2021. ©Ricard Bru.