Mariàngels Fondevila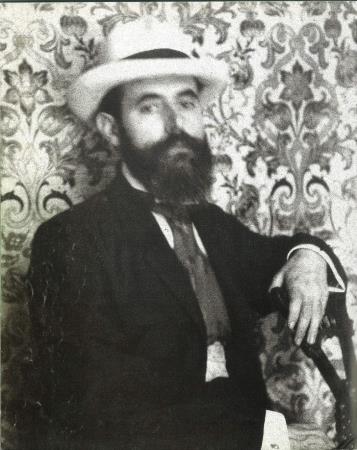 As a good Modernista, following in the footsteps of William Morris, Gaspar Homar was a many-faceted artist; he made furniture, metal objects, mosaics, textiles, marquetry, drawings, he was an antiques dealer and also an amateur photographer. This is confirmed by the recent admission to the Museu Nacional of a collection comprising nearly 68 crates of autochrome glass plates and three boxes of negatives, measuring 6 x 13 cm. This set enriches the Homar collection composed of more than 200 decorative artworks.
The donation of Gaspar Homar's photographic material to the Museu Nacional
During preparations for the Gaspar Homar exhibition this photographic material was found in a dusty wardrobein his summer residence in Montgat, where the furniture maker spent much of the last period of his life. Years later, his grandson has donated it to the museum. This material includes autochrome plates, the forerunner of colour photography.
Dyed potato starch
In 1907 the Lumière brothers very successfully marketed "Lumière Autochrome" a novelty that was presented in the Parc de la Ciutadella in Barcelona to a group of aficionados. Gaspar Homar was attracted by this new colour technique although he did not always master the technical process. To capture colour, this process made use of glass plates with microscopic particles of potato starch on the base of black-and-white film. The grains were dyed red-orange, green and blue-violet, acting as colour filters, and after the plate was processed the complementary colours emerged. For viewing purposes, autochrome plates could only be enjoyed by projecting them through very bright light.
Presentation at the Centre Excursionista de Catalunya
In February 1909, as reported in La Vanguardia, Homar presented his photographs at the Centre Excursionista de Catalunya. This association organized a session of luminous projections of colour photographs by the Majorcan artist. It was the first time that this new technique had been presented, a novelty that, we must remember, was embraced by the great photographers of the time, such as Steichen, Stieglitz, the photographers of the National Geographic Society, scientists like Ramon y Cajal around 1911, the writer Leonid Andreiev and, above all, the philanthropist Albert Kahn. After 1909 Kahn got together a team of photographers who travelled the world taking colour photographs and he created Archives de la Planète, and he also obtained permission to immortalize the Great War in Europe. This collection of nearly 72,000 autochrome plates is conserved in the Musée Albert-Khan in Paris.
Series of miscellaneous photographs: medieval heritage, cities and monuments
This photographic material admitted to the museum clearly shows Gaspar Homar's interest in art and medieval heritage, with series dedicated to the collections of the Museums of Vic, Solsona and Barcelona, churches, and medieval paintings in Terrassa. Remember that Homar was one of the actors who took part, in the front line, in the discovery and the valorization of medieval heritage. He opened an antiques shop in Carrer de la Palla and through his hands passed, among others, the altar frontal from Avià, the altar frontal from Ginestarre de Cardós, Coptic fabrics, paintings and ceramic pieces that now enrich the collections of museums, from the Cloisters in New York to the Museu Nacional d'Art de Catalunya. He even embarked upon a commercial venture, selling antiques, in the sculptor Juli González's shop in Paris.
There are also views of cities and artistic monuments in Granada, Seville, Burgos and Cardona, or scenic views of the Costa Brava, Alella and Tiana, among others. Worthy of mention are the urban views of Barcelona, such as the Port of Barcelona, or Gaudí's Park Güell.
As is usual in this new medium, there are numerous series dedicated to the world of floriculture, such as mimosas, carnations, olive trees and almond trees. Like René Lalique, Emile Gallé, Eugène Grasset and Walter Crane, Homar sought his source of inspiration in nature. A good example of this is the set of furniture from Casa Lleó Morera.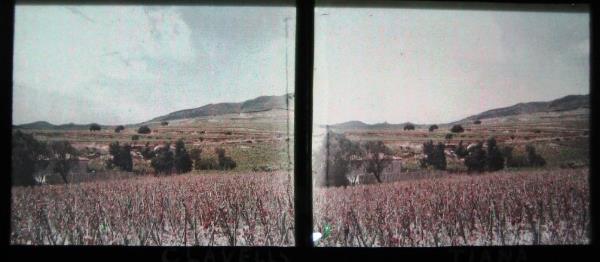 His family also appears, for instance his mother Margalida, or figures and landscapes in his native Mallorca: Orient, Bunyola, Raixa, Manacor and the rugged landscape of the Torrent de Pareis, painted by Joaquim Mir, whose paintings were exhibited in Gaspar Homar's shop in Carrer Canuda.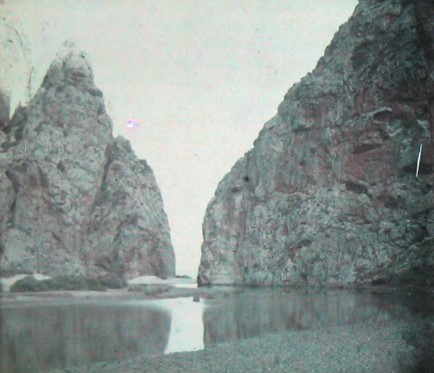 This Gaspar Homar collection illustrates his artistic trials with the autochrome colour photographic medium, a fragile process of photographic reproduction (it was taken off the market in the 1930s), which has been vindicated in recent years.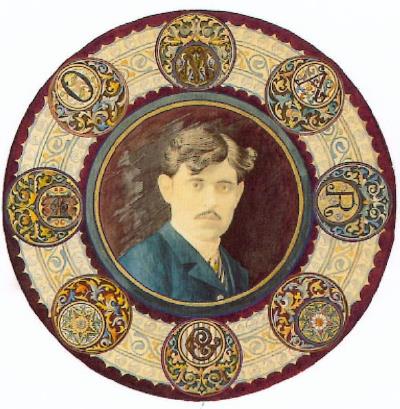 Related links