We will show you some of the GIFS (Graphic Interchange Formats) that youngsters have created, inspired by our Modern Art collection. While you stroll through the galleries and admire the artworks and the spaces, don't forget your creative spirit and be artists. With the touch screen device with a camera and some basic knowledge of the technique of animation that the museum will provide you with at the start of the activity, zoom in and click, and take your animation home with you, the GIF.
This Christmas holidays we encourage you to do this activity. If you upload the animations to the social media with the tags: #zoomclicgif #museunacional, you will be able to share them and yours will be a vision of the collections of the museum never seen before, done with other eyes: yours.
On October 21st museums, art galleries, World heritage and other cultural spaces shared GIFS while we had an amusing look at the collections. Look for the tag #MusGif and you will be able to see some examples. Do you want to see which was the one of the museum?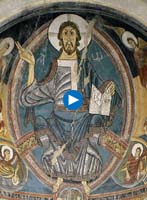 Related links
To know more about the Families and leisure program
Practical information of the activity