Joan Molina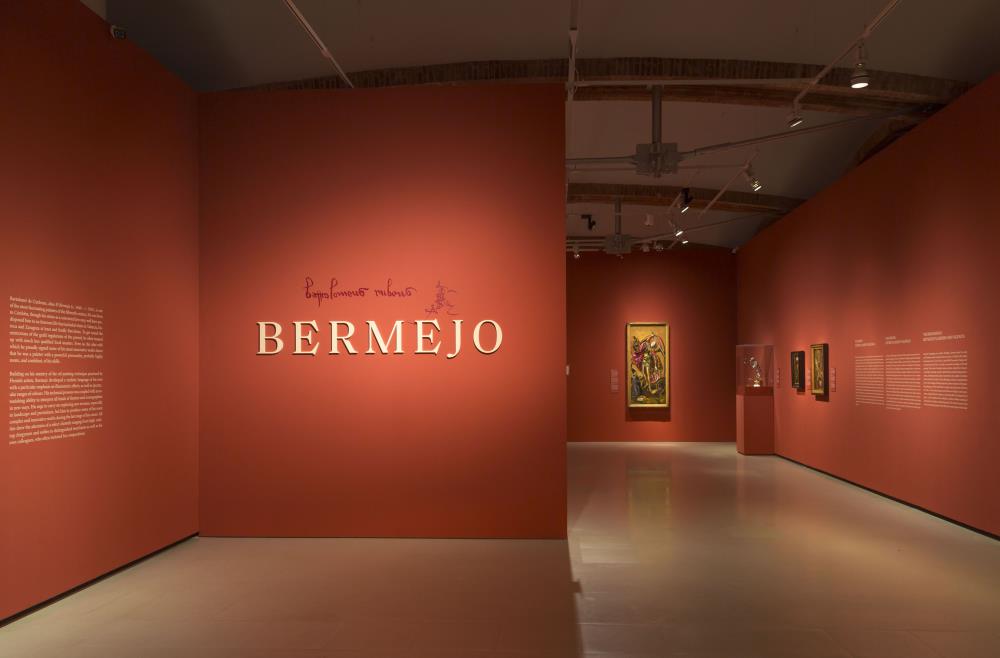 As soon as you enter the exhibition Bermejo: The 15th Century Rebel Genius a painting catches your eye. It is Christ of the Pietà, a work painted around 1470. You will be moved by, among other things, finding yourself looking at a depiction of the naked Christ, covered only by a transparent gauze, refined and preciosista, beneath which his genitals are clearly visible. Added to the surprise due to the exceptional nature of the religious image, to some extent heterodox, there is the admiration for the very high quality of its technique.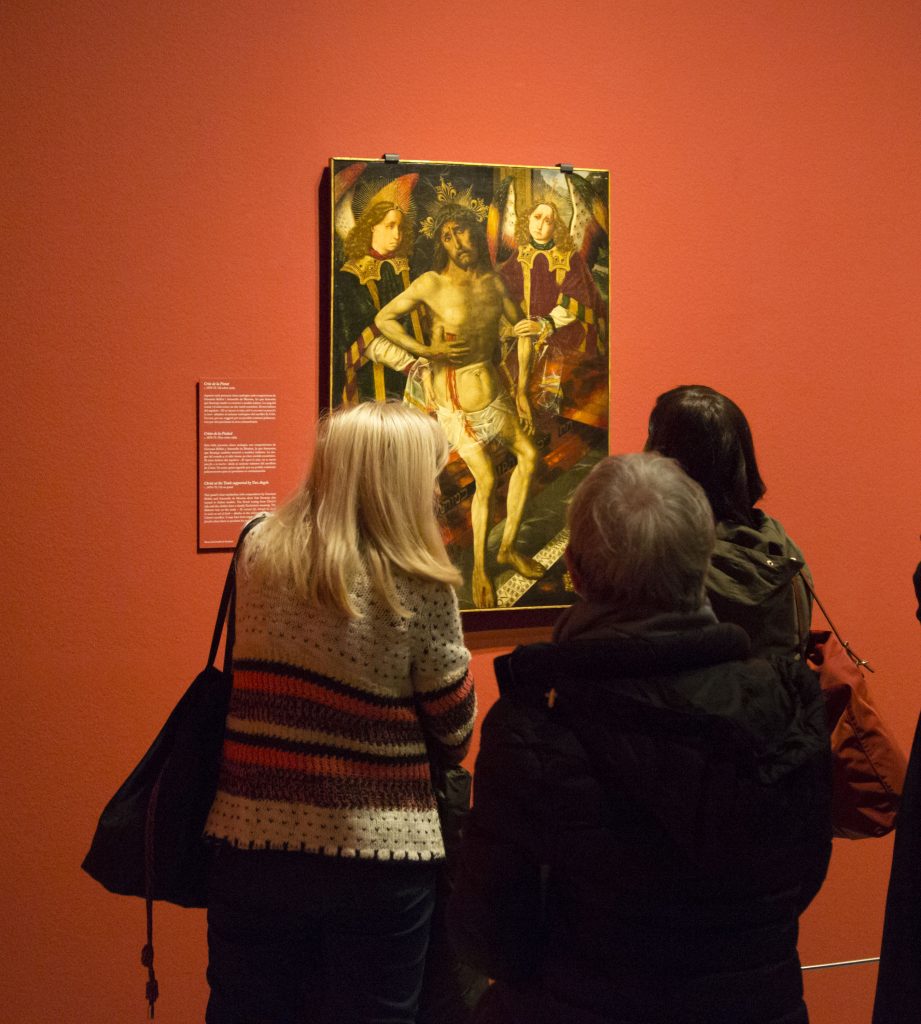 The painter, Bartolomé de Cárdenas, alias el Bermejo (c. 1445-c. 1501), was one of the most fascinating painters of the fifteenth century. His indisputable technical skill and the originality of many of his compositions have aroused the admiration of numerous international specialists for more than a century. In spite of this he is almost unknown to the general public. For this reason, a couple of years ago, the Museo Nacional del Prado and the Museu Nacional d'Art de Catalunya decided to organize a retrospective, bringing together for the first time most of his conserved works, these days distributed around museums and collections in Spain, Europe and the United States. We have endeavoured to present these paintings in an attractive and enlightening way in an exhibition with eight sections that enable us to look at his artistic career, admire the principal creations, and discover his links with colleagues and contemporaries.
Bermejo, a painter with extraordinary technical skill and a language of his own
Bermejo stands out for his mastery of the potential of the then new oil-painting technique. With it he was able to develop a realistic personal idiom, especially attentive to illusory effects, but also to the definition of spectacular colour ranges. One only has to look at the stylized figure of Saint Michael from Tous, his first recorded work (1468), in which we can admire the textures of the material in the red cape that flutters in the wind and the shine of the gleaming golden armour, decorated with all kinds of precious stones.
Saint Michael Triumphs Over the Devil with the donor Antoni Joan, 1468. ©The National Gallery, London. Purchased through a private agreement with a grant from the American Friends of the National Gallery in London, made possible thanks to the financial endowment from J. Paul Getty Jnr, 1995, NG 6553
It seems clear that our painter's principal artistic reference was Flemish painting, the school begun by Jan van Eyck and Rogier van der Weyden which had conquered the whole of Europe, Italy included, by the second half of the fifteenth century. However, even though there has been speculation that Bermejo was able to train in northern European workshops, it is more likely that he learned to paint in cosmopolitan Valencia in the middle third of the fifteenth century, a city open to both Flemish and Italian models, also reflected by the painter from Córdoba.
A sought-after painter, with a complicated and itinerant career
The scant information about his life that we have indicates that Bermejo had a complicated professional career. Born in Córdoba, his being a converso (a Jew converted to Christianity) very possibly forced him to lead an itinerant life that took him, at least, to live in Valencia, Daroca, Zaragoza and, finally, Barcelona. One of the problems with this circumstance in his life is that, to get round the guild limitations of the period, he had to associate with local masters in those cities, far less talented than him. This gave rise to troubled situations, such as the abandonment of some commissions and even being punished with a sentence of excommunication.
Despite that, the proud use of his alias, el Bermejo, perhaps adopted due to some physical trait, with which he signed some of his most innovative works, is evidence that he was a painter with a strong personality, probably conscious and proud of his talent – a real fifteenth-century rebel genius.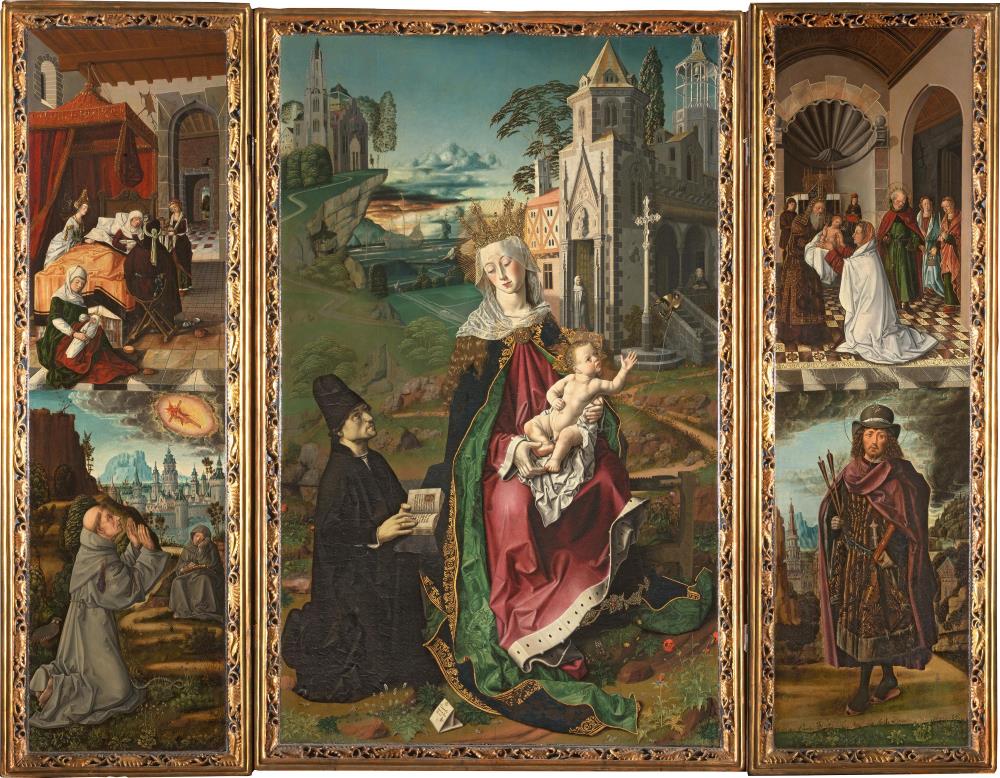 Bermejo, the creator of his own language
Besides his technical skill, Bermejo is also surprising for his ability to make new interpretations of all kinds of themes and iconographies. Indeed, his interest in continuing to explore new areas, especially in the field of landscape and portraiture, enabled him to produce some of his most complex and innovative works towards the end of his professional life.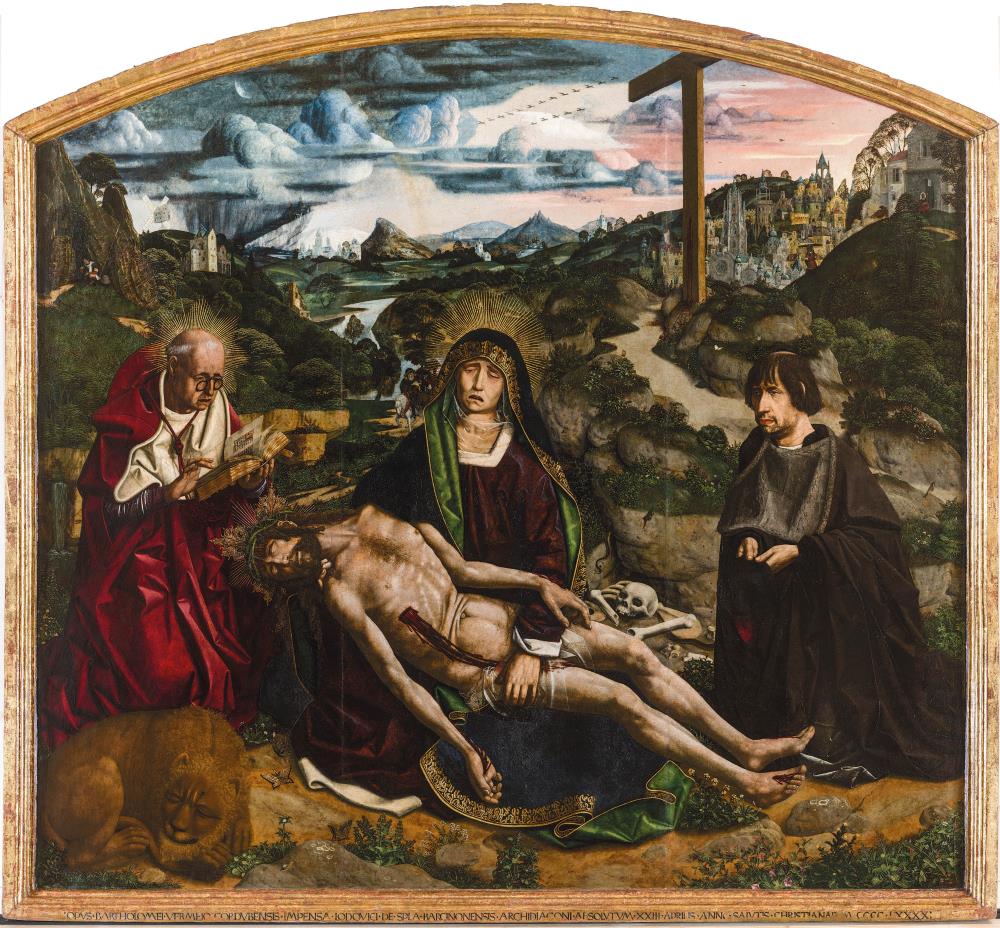 A paradigmatic example is his last known work, Canon Lluís Desplà's Pietà (1490). Beyond the evocation of a devotional subject, Bermejo presents us with a pictorial spectacle, the depiction of an extraordinary landscape that stands out for its background full of atmospheric effects and the detailed picture of a Celestial Jerusalem, and for the meticulous recreation, in the foreground, of a real botanical and animal universe that the viewer observes with a mixture of curiosity and astonishment.
Desplà Pietà, 1490. Details © Catedral de Barcelona (Fotògraf: Guillem F-H)
After his death, Bermejo and his work were completely forgotten. Indeed, the artist and his work were not recovered until the late nineteenth century, when some of his most distinguished panel paintings aroused the interest of important international collectors and forgers of old paintings. Some of these fakes serve to end the exhibition and bear witness to how far Bermejo became, in the early twentieth century, one of the best-known representatives of what could be an imaginary museum of Flemish painting.
He was a magnificent master, to whom we pay a deserved, long-overdue tribute, and at the same time we introduce him to the general public.
Related links
Bartolomé Bermejo. Museo del Prado
The Flemish key in the museum's collection: study of three virgins
Joan Molina
Curator of the exhibition