Julián Artacho and Dídac Bautista
In January, 11 year-old Dídac visited the museum with his in-home care teacher and his mother. We were particularly delighted to welcome them.
Dídac doesn't go to school because of a medical condition which is why the Ministry of Education provides him with this service. The visit went further than just looking at the works of art in the museum.
His teacher, Julián Artacho, had tasked him with producing some drawings based on his visit, bearing in mind that Dídac loves drawing and writing.
The visit, and the opportunity to see the museum with his own eyes, encouraged us to want to share his work and, at the same time, give visibility to these alternative educational environments: the home and the museum.
In this article, Dídac's teacher first gives some background to the visit and the work undertaken by in-home care teachers. Next, you can read what Dídac wrote based on his visit.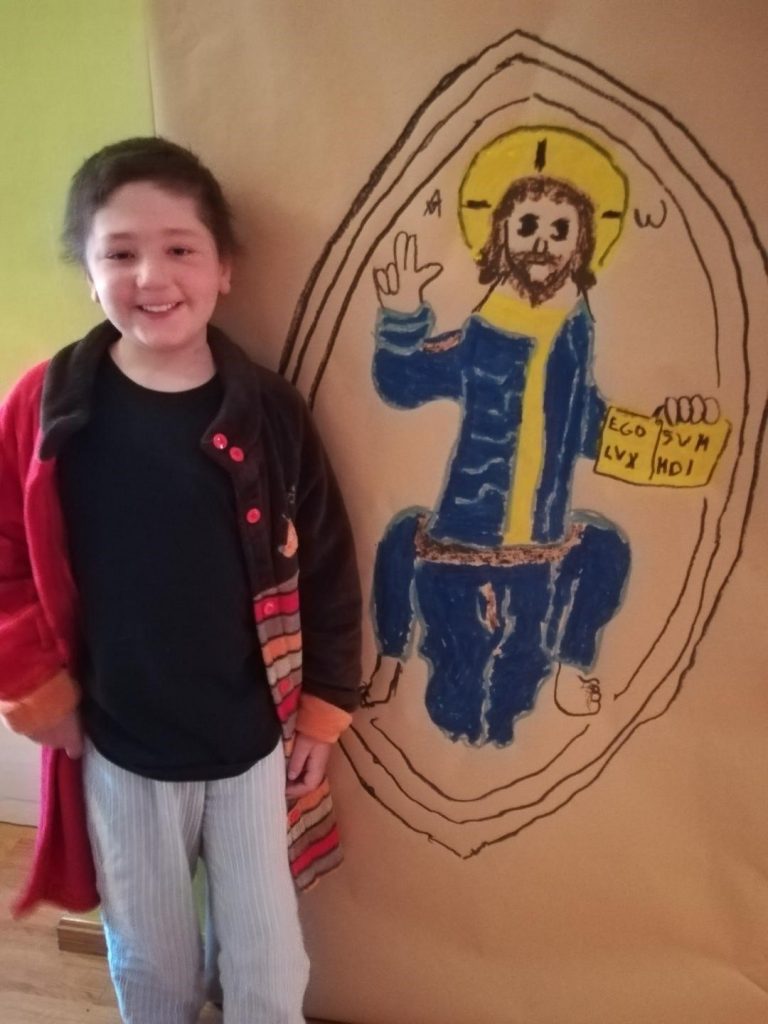 PTaking the classroom into the home, in-home educational care
There are many school age children and adolescents with physical or psychiatric medical conditions that prevent them from going to school. In these cases it is possible for a teacher to be assigned to give classes at their homes. These are the teachers of the in-home education care service.
Dídac is one of these children who, due to a serious illness, has been unable to attend school for a very long time, but who has benefitted from having a teacher at home.
One of the ideas that Dídac came up with when he was studying in his 'private classroom' was a visit to the Museu Nacional d'Art de Catalunya. He was particularly interested in the Romanesque art section, no doubt due to his siblings having told him about it or through his visits to the museum website.
We decided to prepare for the visit by informing the museum and also by swotting up, reading the website and books as well as preparing the material to be able to draw in situ.
Next we have the story that Dídac wrote about the visit as part of his work assignment.
"David's amazing adventure at the Museu Nacional d'Art de Catalunya', a story by Dídac Bautista
Friday morning at 10:00, which is when the Museu Nacional opens, David and his mother were waiting ready at the doors, impatient to start their visit.
No sooner did David enter the magnificent museum, he felt the place had something special about it. Once they had climbed all the stairs, his mother said that she was going for a coffee and that he could do the visit all on his own. She would wait for him in the magnificent Sala Oval.
David went into the Romanesque art exhibition. He looked at all of the works from the very beginning until he got to the painting of the Stoning of Saint Stephen. David stood looking at it for a long while until he sensed that he heard a voice telling him…
"Run!!! Run, if you don't want them to stone you too." Next second, the boy saw Saint Stephen leaping from the picture and then telling him to start running. Without a clue what was happening, David ran after Saint Stephen to avoid a stone hitting him as well.
The men carried on chasing them until David and Saint Stephen got as far as the Christ Pantocrator, where Jesus was seated. As they arrived, Saint Stephen straight away asked him:
"Friend, is there anywhere that we could quickly hide?"
Jesus moved his two extended fingers and used them to indicate where they should go. He immediately guided them towards the Apse of Sant Climent de Taüll, where they managed to hide. Once the men with stones had run right past them, Saint Stephen and David began making friends with each other.
No sooner did Jesus telll them that the danger had passed when another one arrived: men dressed in red from the Altar frontal from Durro came looking for them carrying cooking pots and saws. Now all three of them ran like mad to avoid being caught.
At last they got to a room where there was a winged animal, The Griffin which, using a very kindly tone, told them to climb onto its back so it could take them to a safe place. Jesus, Saint Stephen and David all climbed onto the animal, whereupon it unfurled its incredible golden wings and began to fly and fly.
As they flew, David started to miss his mother. He closed his eyes and let himself be guided by the wind.
When he next opened his eyes he found that he was staring at the very first exhibit and that he hadn't moved at all. It was then he realised that it had all been in his imagination while standing in front of that painting and he went off quickly to look for his mother to tell her all about it.
By the time he left the museum, David realised why he had thought the museum had something special about it. It really was a magical place.
Dídac Bautista
aged 11